Pediatric Dentist Houston
When it comes to small children, a lot of things they are unfamiliar with can be scary to them, and often that will include the dentist's office. There is usually a lot of equipment, big lights and people they don't know. However, when your child is close to starting school it's important that they start to begin their routine dental exams. Marquette Dentistry in Houston is experienced in handling pediatric dental appointments and are more than happy to help by providing some tips when it comes time to bring your child in.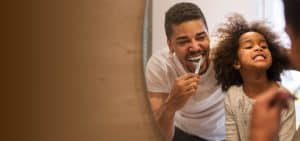 We know that the dentist can seem scary to kids, but when they see just how kid friendly our staff is and easy their exams and appointments can be, they will be more willing to come in each time.
Starting dental exams early on can help your child get comfortable around a dentist. Even when they are not experiencing any oral pain, coming to the dentist just for routine check-ups can create that comfort level they need when experiencing something new. If you only have your child come in to the dental clinic when they are in pain, they will start to associate pain with the dentist and therefore not want to go.

Going to the dentist routinely is the best thing you can start when it comes to your child's oral health. A healthy relationship with the dentist will allow your child to develop trust with someone they don't see every day. We always recommend doing routine check-ups every six months or more often when there is pain, tooth decay or your child is going through orthodontic treatments.

It is smart to always let your child know what to expect when they go to the dentist. You can read books about dentists, show them photos of the clinic or recreate a possible dental visit at home. When you pretend to have a dental exam at home use their tooth brush to count teeth and talk with them about what to expect if x-rays need to be done.

Whenever you talk about the dentist it's smart to use positive words like clean and strong. Avoid anything that may initiate fear or anxiety. Speaking with your child about the benefits of getting their teeth checked is also a good idea.

Teaching your child about all the benefits related to good oral care is another place to start. All your family members should be brushing their teeth twice a day to set good examples. Explaining that going to a dentist is just as important as brushing your teeth every day.
If you would like to schedule a pediatric dental appointment with our pediatric dentist Houston, contact Marquette Dentistry today.
FUN FACTS ABOUT HOUSTON TEXAS
The most expensive home currently listed for sale in Houston is on Longfellow Lane in the Rice/Museum district. The house sits on almost two acres, has more than 12,000 square feet of living space and is listed for sale at $16,500,000
The tallest building in Houston is the 75 floor JP Morgan Chase Tower which stands 1,002 feet tall. It is also the tallest building in Texas.
The highest temperature ever recorded in Houston was 109 degrees. The record high was at George Bush Intercontinental Airport on September 4th, 2000 and again on August 27, 2011.
For more info about Houston, click here!