Tooth Loss is not a Problem with Dental Implants in Katy TX
If you are missing a tooth, dental implants in Katy TX is the way to go. We know that right now, there are many different things going through your mind. You may be ashamed of your smile and not sure if that is something you can ever be proud of again. But we are here to let you know that this is something that can be changed in no time.
There is no doubt that people with tooth loss go through some of the same things you're going through. But again, it doesn't have to stop here. You can go about your routine and day to day without being embarrassed or ashamed. The reality is that many people lose their teeth for various reasons.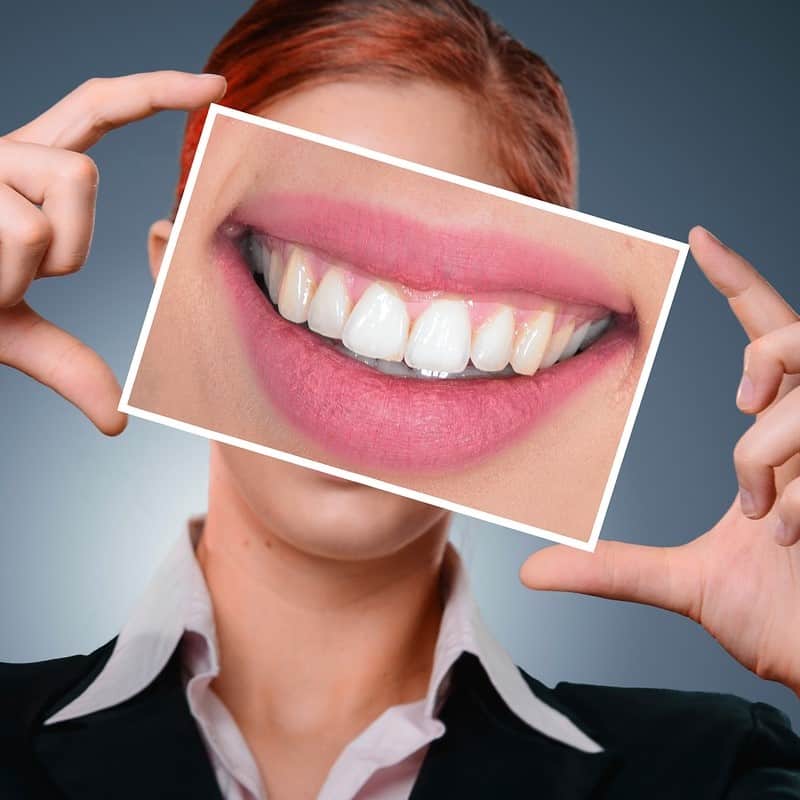 Some reasons for losing teeth include trauma, cavities, disease implications, injury, and even old age. Either way, we want you to know that there is always a solution. You don't have to subject yourself to dentures of temporary teeth. There is a permanent solution for patients like you, and it's available at Marquette Dentistry.
We have a team of licensed and certified dentists who are ready to give back beautiful smiles. What you need to do is contact our team and schedule your dental implant procedure. Or you can visit our website and set an appointment online quickly. Trust that Marquette Dentistry has you covered.
Visit Marquette Dentistry for the best Dental Implants in Katy TX
How do you know which dental office to visit when you need to get a procedure as big as this done? This is a very valuable question, and we are going to help you answer it. You may or may not have a dentist's office that you already visit. If you do and they don't offer this kind of procedure, then you're probably looking for an office that does.
With that being said, you're looking for a list of qualities or criteria for this dentist office to have. If they meet all of these criteria, then you will be comfortable using them. Let's think about and list some of these criteria.
First, you want to make sure that they perform dental implants. Of course, that is because this is the service that you're looking to have done. Next, you're looking to see their success rate. How much do the patients who completed this procedure love what they got done? Lastly, you're looking for quality dental service they will give you.
All of these criteria combined are what make an excellent service, and we understand that this is what you're looking for. Well, we are happy to let you know that you have found the perfect dentistry. Marquette checks the boxed for all of these criteria and more.
We take pride in being about to improve the dental health of our patients, and it's a part of our mission. In addition to that, it is important to us that everything we do is of the highest quality. And that everything we use is of the highest quality. So, you don't need to worry about anything going wrong or something being of lower quality. We got you covered.
Dental Implants
As we mentioned before, there are many reasons that patients lose teeth. But no matter the reason, we know that there is a solution.
Over the years, the oral care industry has improved in terms of technology. The newest technology and development in dentistry is the reason we have oral surgeries with very successful rates. Anyone can now undergo the technique of dental implants. They have become famous in the United States and many other areas of the world.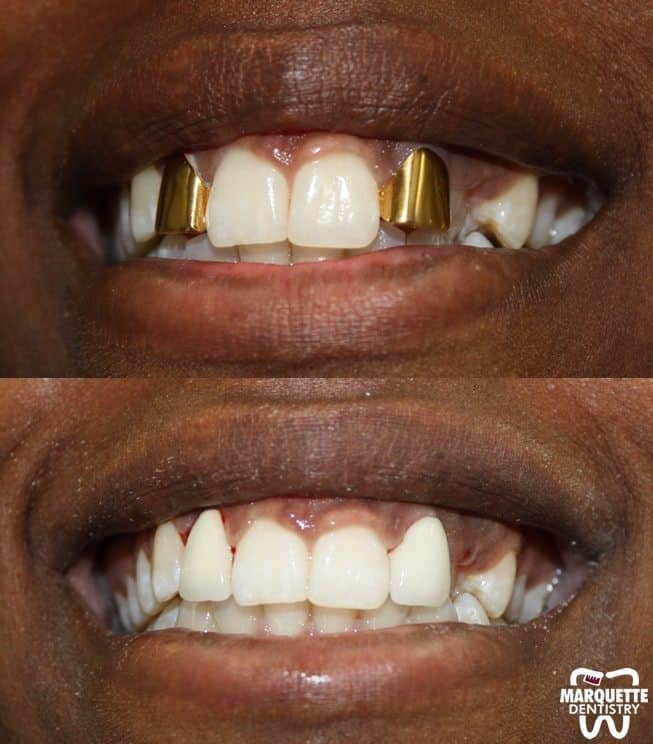 The procedure is one that has been perfected and the techniques and devices used have been perfected as well. When going through the procedure, one will be given local anesthesia. This is so you don't feel any pain during the surgery, and everything goes smoothly.
The "root" device used for the replacement teeth is manufactured by titanium post, a transition metal. This technique is used to support different dental prostheses like implant-supported bridges, dentures, and crowns. Also, note that the techniques used by the dentist performing the procedure are more modern ones and have proven to reduce the length of time that you need healing.
We also want patients to know that you're new tooth or teeth will not look fake. This is a concern that we know many patients have. You'll have natural teeth implants, and you'll be able to use them just as well as you use your normal teeth. So don't worry about this at all.
Benefits of Implant Surgeries
The benefits of dental implants all contribute to your long-term oral health. Some patients are nervous or afraid of how this will procedure will go and what will happen afterward. With this surgery, you don't need to worry at all. You'll be able to do all that you were doing before and much more.
These implants become part of the bone and provide maximum comfort. So, discomfort is something you don't need to worry about. Temporary dentures can cause problems while chewing but if one gets these implants, the problem of chewing can be handled. So, understand that improvement in dental technology has made things easier for many, and it can be that way for you as well.
Improvement of the appearance of one's teeth is the number one benefit. At Marquette, we call this procedure a smile improvement, and that is because that is exactly what it does. So, take them into consideration when thinking about the procedure.
In addition to this, if you only have one missing tooth, know that singular dental implants are available. Trust our expert dentists to complete this procedure for you whenever you're ready.
Financing Your Implant Placement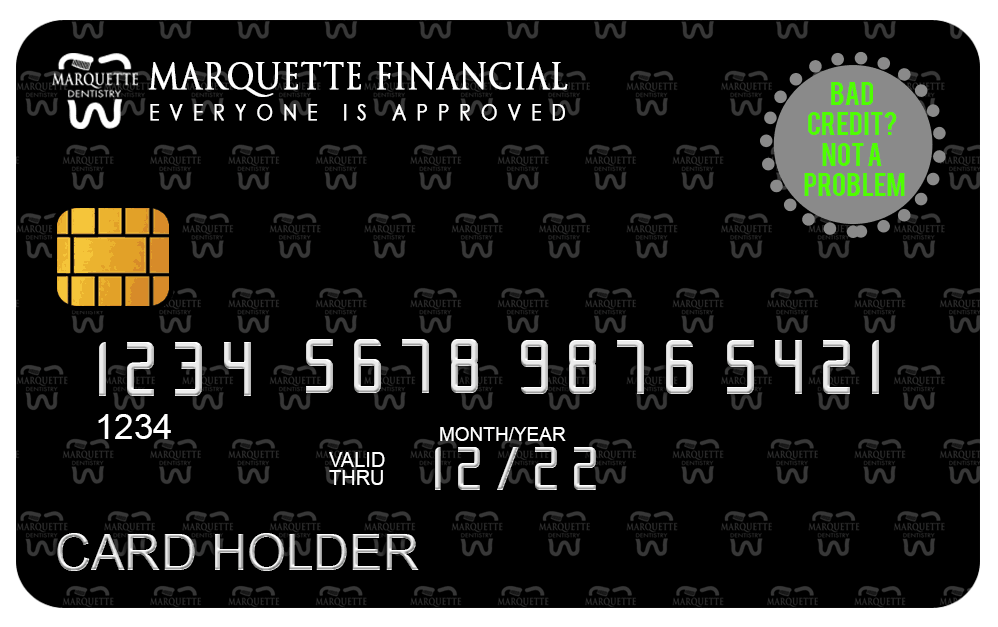 We understand that something else you might be thinking about is the cost of your dental implants. Well, we have great news for you! At Marquette Dentistry, we are all about affordable and flexible financing for all our patients. This is something that we know many will need, and that is why we provide it.
If you have dental insurance, know that we collect this as well. But you want to make sure that this is something that they will cover. And checking this is as simple as calling to ask. In addition to this, know that we also provide payment plans, and you can sign up for a Marquette Finacial card. This is for those with a credit score of 500 or above, and you get a credit line of $5,000.
Check out some of our other financing options by visiting our website today. And if you have any questions, feel free to give the Marquette Dentistry team a call.
Let Us Help You Today
If you are needing a dental implant, then make an appointment online or give us a call at (832) 786-4406. We will use the best tools and techniques to obtain the oral health you're looking for.
Check out some of our other amazing oral health services. These include Invisalign, teeth whitening, veneers, root canals, and much more. Let us help you achieve a greater oral health together. Visit us today to get dental implants in Katy TX.
Facts about Katy Tx
The Katy Heritage Society Railroad Museum is a popular historcial site to visit in the city
Visit Katy Mill Mall
More than 20,000 people are residents of the city