You may enjoy your experience when you visit your local dentist's office, and that is a great thing. Going to the dentist isn't something that you should dread. When you see your dentist, and they let you know that you need some kind of dental procedure, then maybe you might start thinking. This isn't because you're that nervous about the procedure, but it's more about the cost of the procedure.
The reality is that dental procedures are expensive. And if you don't have dental insurance, that's a lot of money that you're paying out of pocket. So, it now seems like you're stuck in a limbo and don't know what to do. Well, if you didn't know, there is something called dental financing. If your current dentist didn't let you know about this option, then it is possible that they offer it.
With that being said, let us introduce ourselves, a dental office that offers dental financing. We are Marquette Dentistry, and we have been providing dental service to patients in the greater Houston area for years. Our aim is to make sure that every patient that walks into our office learns something new about how to better their oral health. In addition, the aim is also to ensure that everyone leaves with a smile that they are proud of.
The truth is that we do things a little differently here. And what we mean by that is we are offering something that many other dental offices don't. As we have established, most dental procedures are expensive, and that makes it difficult to pay out of pocket. But many dental offices don't give the option of dental financing, and that is what makes us different. Our dental office is doing something special and offering all our patients dental financing.
So, let's dive deeper into the world that is the Marquette Dentistry dental financing.
Financing Options Available at Marquette Dentistry
One thing that we like to emphasize here at Marquette Dentistry is financing is flexible and affordable. These are two words that we know that you love to hear. And that is because when it comes to financing, you don't want anything that will add extra stress to you. With that being said, that isn't the case with the dental financing that we provide.
Our financing comes in the form of credit cards. This is an unconventional way to do it, but what we like to point out is that you can use this card for this dental procedure in addition to others. You shouldn't feel like you need to avoid the dentist just because you can't pay for what you need. So, with our financing options, you can get the quality dental service you need with no stress.
There are four cards available for you to sign up with. And before we get started explaining these cards, we want to let you know that your credit score doesn't affect whether you can get this financing. One thing we pride ourselves in is providing this to those who have bad or good credit. As we mentioned, we are all about ensuring that you get the dental service you need, and your credit score shouldn't affect that. So, let's look at the options you have.
Financing Credit Cards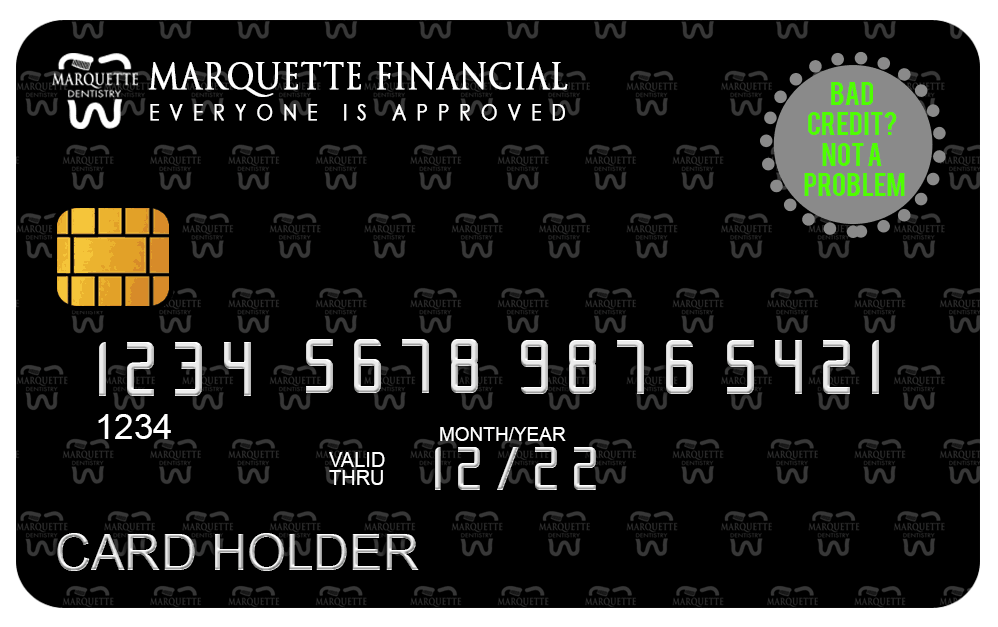 Care Credit: If your credit score is a 640 and above, then the Care Credit card is the financing option you should consider. The credit line available with this card is between $500 and $50,000.
Enhancing Patient Financing: For patients with a credit score of 600 and above, consider this card. The credit line you get is between $750 and $30,000.
LendingUSA: If you have a credit score of 585 and above, then this is a great card for you. Your available credit line is between $1,000 and $5,000.
Marquette SB Financing: This last card is the personal card that our dental office gives for patients with a credit score of 500 and about. The credit line on this card is $5,000.
Choose the card where you best fit the qualifications, then visit our website to apply for that card. Lastly, call us here at Marquette Dentistry to get your dental procedure or service today.